Safety First, Wellbeing Always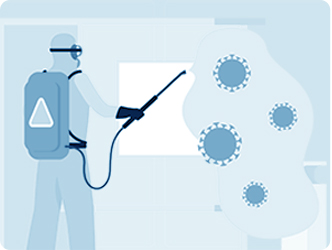 Cleaning and Disinfecting
Regular cleaning of surfaces frequently touched by multiple people, such as door handles, desks, light switches, workstations, washrooms, handrails, etc.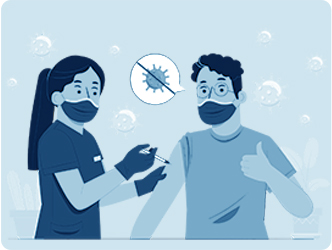 Vaccination of Employees
To ensure everyone's safety, 100% of our employees have received at least one dose of the vaccine.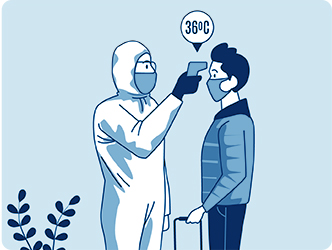 Thermal Scanning and Hand Sanitization
The temperature reading is taken of every person entering the campus. Hand sanitizers are available at the entrance gate and specified places.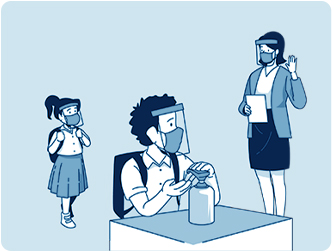 Wearing Mask and Social Distancing
Wearing a mask or face shield is mandatory inside the campus. Social Distancing is maintained at the entrance gate and in the campus with the help of tape marks on the floor, placed 6 feet apart. Also, the seating areas have been reconfigured to ensure a safe distance between the visitors.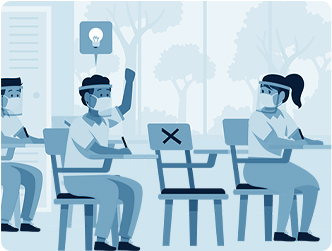 Classroom Precautions
Proper classroom seating arrangements are made to reduce the room capacity to 50%. Students will be seated diagonally to maintain a safe distance from one other.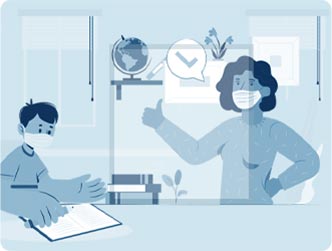 Doubt Counters
Social Distancing is maintained at the Doubt Counters with the help of tape marks on the floor. Transparent Acrylic Corona Virus Protection shields are installed at the doubt counters to avoid human contact. Also, the use of face covers/masks is mandatory for both students and the faculty.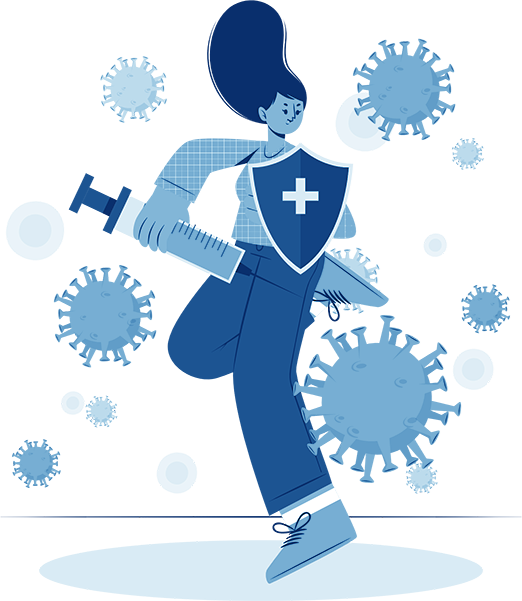 COVID-19 Standard Operating Procedure (SOP) followed by students, employees, and visitors
Physical Distancing is to be maintained on the premises.
Gathering inside the campus, shaking hands, and maintaining close contact with others is not permitted.
Use of face covers/masks is mandatory at institute premises and even while coming to the institute by any mode of transportation.
Wash your hands frequently and use hand sanitizer whenever possible.
Bring your sanitizer, water bottle, and food items from home.
Avoid exchanging water bottles, textbooks, stationery, and food items.
Spitting is strictly prohibited inside the campus.
Self-monitoring is advised. Report ______ in case of any illness at the earliest.
Avoid coming to the institute on having any symptoms like fever, headache, cough, and cold.
A negative report of RT-PCR (tested 72 hrs. prior) is mandatory for students and parents coming from outstations. Also, they are required to follow the State COVID-19 Guidelines.
Everyone above the age of 18 years must be vaccinated.
The students coming in contact with ALLEN faculties and team members are safe as our employees are vaccinated and follow all the preventive measures.